Esmé Antonia Elizabeth Dilworth, née August 2013
Passion Play
, Sheep No Wool, with Outside the March and Convergence, 2013
La Ronde
, Soulpepper 2013
Penelopiad
, remount, 2013
Terminus
, Mirvish remount, 2012
Antigone Dead People
, Small Wooden Shoe, 2012
Proud
, Michael Healey, 2012
photos Sean Howard
"As Jis, a name the PM flatly refuses to use, Maev Beaty is sensationally good: switching from ditziness to determination and back again, with a quick flash timing to match Healey's slow burn. She's always had presence; she now has control." Robert Cushman, National Post
"Maev Beaty plays Jisbella Lyth, a rookie MP from the fictional Quebec riding of Cormier-Lac Poule, a single mom and manager of a
St. Hubert
franchise until her recent foray into federal politics. The moment she bursts on stage in her hilariously brash entrance she is instantly likeable. The character is the perfect counterpoint to the dour, stuffy and rigid Prime Minister.
This is the third or fourth show I've seen Maev Beaty in recently and she is consistently brilliant. The scenes between the Prime Minister and Lyth are scintillating; Healey and Beaty have a great rapport." Wayne Leung Mooney on Theatre
Terminus,
Outside the March, 2012
Glenn Sumi, Now Magazine
Radical Practices: The Edward Bond Festival,
Sheep No Wool Theatre 2012
Maev Beaty and Alan Dilworth organize Edward Bond Festival
TARA WALTON/TORONTO STAR
Happy Woman
, Nightwood Theatre, 2012
photos by
Guntar Kravis
"
Her polar opposite is her daughter Cassie, a barmaid and performance artist (not, she insists and despite her brother's insinuations, a stripper), who wears her heart not so much on her sleeve as on her entire body. As played by Maev Beaty, she's alight with wit, warmth, pain and anger; this actress's ability to take instant command of both stage and character has never been more electrically on display" - NATIONAL POST, Robert Cushman
"Beaty is striking as the restless Cassie, who works out her issues in nude, Karen Finley–style performance pieces" - Martin Morrow, The GridTO
*Dora Nomination for Oustanding Performance by a Female*
Penelopiad, Nightwood 2012, 2012
photos by Robert Popkin
"vibrant, moving and darkly, explosively funny." National Post, Robert Cushman
"In the superb Nightwood Theatre production that opened at Buddies in Bad Times Theatre on Thursday night, the work's potential to charm and alarm us in equal measure is displayed to its full power." 4/4 Richard Ouzounian, Toronto Star
Another Africa
, Peggy Pickit Sees the Face of God, Volcano/Canadian Stage Co., 2011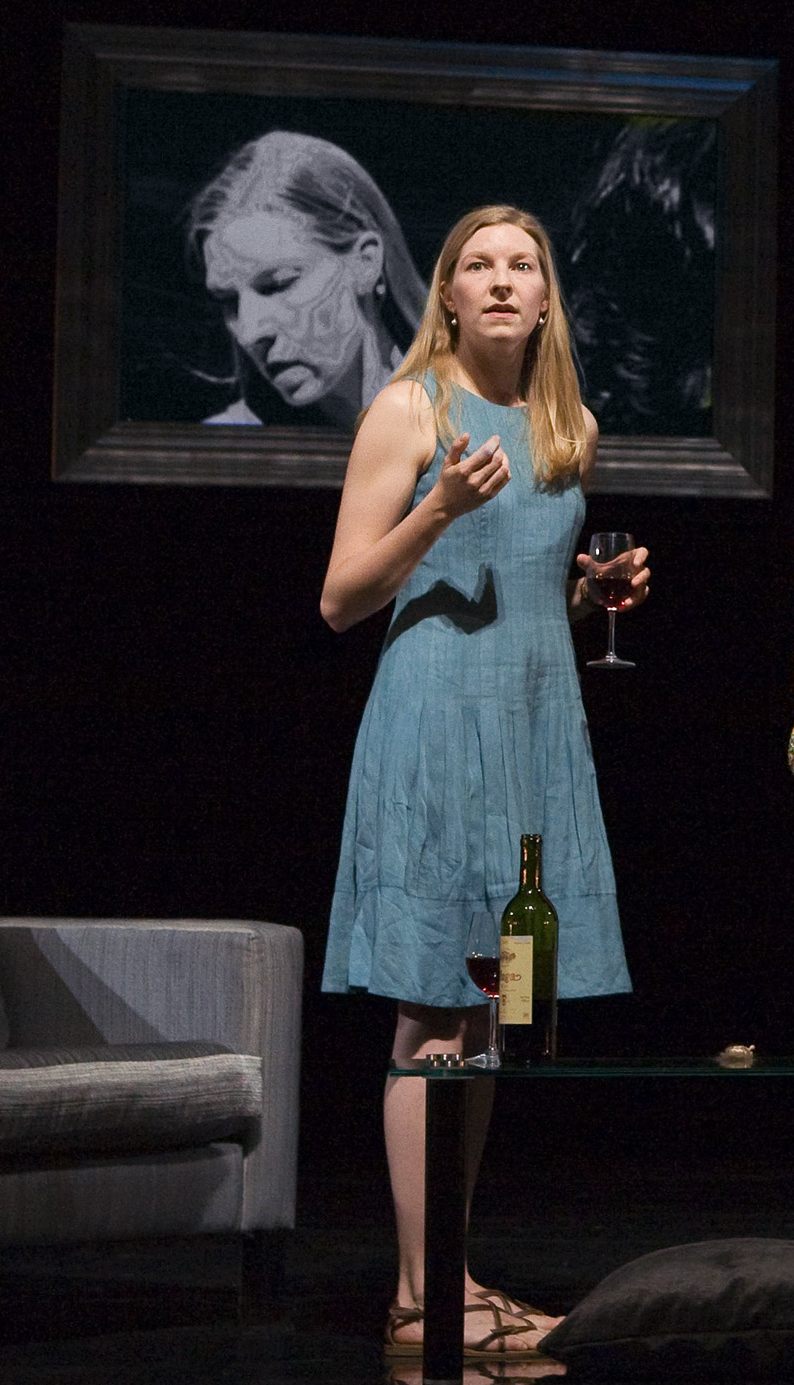 Run – don't walk, skip or even scurry – to catch Peggy Pickit Sees the Face of God at Canadian Stage. German playwright Roland Schimmelpfennig's devastatingly funny satire concerns the after-effects of a couple's "wonderful and horrific" medical mission to Africa – and it's a strong contender for the best play to have its premiere in Toronto so far this decade...Three cheers for all four gifted comic actors...Director Liesl Tommy ties all the performances together tightly and makes ingenious use of a camera hidden in a African doll.- Kelly Nestruck, Globe and Mail
Under L

ie

sl Tommy's direction, which is both pitch- and pace-perfect, the two women give especially fine performances. Kristen Thomson's Liz moves from a precarious comfort zone to total meltdown; Maev Beaty's Carol is on crisis alert from the start, but with a top dressing of poise; and both of them can explode, or implode, at an instant's notice and with frightening conviction - Robert Cushman, National Post
The future of the St. Lawrence Centre may be up in the air, but there's no uncertainty about the
Volcano Theatre production that's just opened there. This Canadian Stage presentation will be a huge hit — and deservedly so....Original cast members Tony Nappo and Maev Beaty are back with even fuller performances, Nappo as the Mr. Tactless host who simply wants everyone to have a good time, Beaty as the troubled Carol who has faced some terrible decisions, unimaginable to those who haven't been there. Robert Crew - Toronto Star
The technique demands perfect precision in timing and movement that is simply amazing to watch. All four actors give outstanding performances...Beaty is an apprehensive woman who already seems on the verge of a breakdown when she first enters...The two plays were must-sees last year. Now in their new, more congenial format, they invite you even more forcefully to shine your eye on the new face of drama in both the developed and developing worlds. Christopher Hoile stage-door.com
All four actors are phenomenal. This is truly an ensemble performance as the cast's timing needs to be so precise for the piece to work and the timing of the four actors is spot-on. - mooneyontheatre.com
MONTPARNASSE,
Groundwater Productions in association with Theatre Passe Muraille, Spring 2011
-->
ASH, The MILL, pt 4, TheatreFront, Damien Atkins, January 2011
"D" WIDE AWAKE HEARTS, Brendan Gall, Tarragon, 2010
RITTER, DENE, VOSS, One Little Goat, LaMama, New York City, 2010
Seelig's cast delivers the text with clarity and distinctive style. Jordan Pettle brings a compelling mix of arrogance and self-pity to the 'philosophical thug' Ludwig (a name that links the character to Wittgenstein, whom he resembles, as well as to Beethoven, whom he admires); Maev Beaty is touchingly natural as the older of his sisters, who dotes on him, and Shannon Perreault is aptly sharp-edged as the younger, who sneers and snipes from the sidelines. Adam Feldman, Globe and Mail
Thomas Bernhard may be one of Europe's great postwar writers but his plays are rarely seen in the US. This is a shame. The production of his Ritter, Dene, Voss which opened last night at La Mama has percolated since 2006, and it is a thing of finished beauty. Bernhard's fluid yet joyfully abrupt language (translated by Peter Jansen and Kenneth Northcott) is the river from which the true, sad, spiritually ugly faces of the repressed Dene (Maev Beaty) and the looser, spiteful Ritter (Shannon Perreault) swim into startling focus. As Ritter indulges her obsession with reading the newspaper, passive-aggressively complaining about Dene's bossiness, Dene expands and dresses the dining room table as if by making it bigger and setting it she can sculpt a loving, or at least functional, family into being...Adam Seelig and his superb cast wear this wonderful work like a surgical glove. Jon Sobel, blogcritic

Every once in a while, you get a reminder of why you're in this business. For me, that was Ritter, Dene, Voss... I would be remiss not mention the superb acting. I haven't been this engrossed by a performance in a while. Seelig did a great job of assembling this group of young Canadian actors. If you don't know them yet, you will soon. The cast (Shannon Perreault, Maev Beaty and Jordan Pettle) did a splendid job of basically digging into the text and just going for it. Simple Acting 101 at its finest! Trish Vignola broadwayworld.com

The dialogue turns and churns as the siblings face off with one another...The push and pull of caring and revulsion amongst the trio rearranges the relationships and the living space,¦ I am glad La MaMa has brought this young company to New York. My hope is that Seelig creates something else that follows in the footsteps of Thomas Bernhard by developing a work personally suited to Perreault, Beaty, and Pettle's particular talents. - Chris Harcum nytheatre.com

This is a terrific self-referential absurdist play, beautifully written and translated and superbly acted. It is downtown theatre at its very best. The three actors all do a superb job in their respective roles and director Adam Seelig deserves considerable credit for this production. Alan J. Miller theasy.com

The group had the guts to do the play, remind us of Bernhard, demonstrate a different kind of Absurdism, and give our sometimes prefabricated theatre ... meaning. Bob Shuman Stagevoice.com
Dance of the Red Skirts, Theatre Columbus.
"The acting ensemble of Maev Beaty, Greg Gale and Erin Shields, who helped create the play, is outstanding, and the three troubled characters they portray tug at the heart strings". Paula Citron, Classical 96.3FM
"..three performers have a deeply ingrained habit of revealing their inner states through physical quirks and dancey movements that convey much more than their spoken words. Repeated words and images, particularly being drawn into an unseen sphere of mystery and uncertainty, make the connecting tissue between seemingly unrelated scenes. "Dance of the Red Skirts engages all our sensibilities with humour and grace". Susan Walker, The Toronto Star


".. Those involving Celia, who loses her schoolmarmish primness through a dalliance with the nebbishy Roger, are well-observed and very funny... the play, developed through improvisation, still exudes the freshness of that method because Beaty, Gale and Shields still seem caught up in the joy of discovery - EYEWEEKLY Magazine